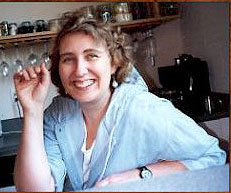 Lisa Sayre
Lisa has her Bachelor of Music and Masters from Louisiana State University in Oboe Performance. She was a member of the U.S. Air Force Band of Flight for seven years and has recorded three CDs (on both oboe and English horn) with the Taliesin Orchestra. Her latest CDs, Alice in Wonderland and Christmas Eve, are available through Hoboe Music, Lisa's own label.
Lisa is active in the music business as both professional performer and, in the recording industry, as a development specialist, specializing in enhanced CD and classical CD production. In 1996 her production of an enhanced CD for the alternative group "Betty" was acclaimed by MacWorld as one of the 50 best CDs of the year! She is constantly in demand as an oboist and performs throughout the Southeast with such organizations as the Atlanta Symphony Orchestra, The Georgia Sinfonia, the Savoyards Musical Theatre Co. and the Baton Rouge Symphony, to name a few.
Lisa is one of the founding faculty members of the popular "Oxford Oboes" camp, which takes place each summer.